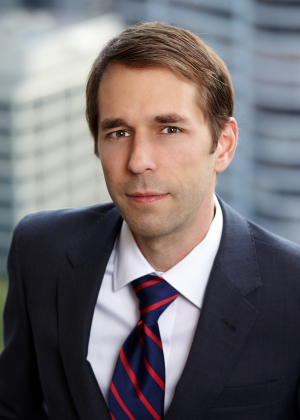 Lewis & Clark Law School presented the award to Wilson in "recognition of his professional excellence and achievements as a litigator, his zealous advocacy on behalf of his clients, and his commitment to supporting the mission of De Paul Treatment Centers."  The Rising Star Award honors the personal and professional accomplishments and contributions of Lewis & Clark Law School graduates. Nominations are sought annually for graduates who have made a difference in their community, their profession, or the lives of others, through ambitious efforts that reflect the scholarly, entrepreneurial, and service-oriented spirit of the law school.  
Wilson represents clients in complex litigation involving contracts, business torts, securities, and employment in state, federal, and international forums. He has worked on cases before the United States Supreme Court, the Ninth Circuit Court of Appeals, an international tribunal in Kenya, and state courts throughout Oregon. He is involved in some of the largest litigation in the Pacific Northwest, and smaller pre-litigation disputes and arbitrations.  Wilson's clients include businesses, individuals, startups, governments, and nonprofit organizations. 
Besides his legal work, Wilson is the Chair of the Board of Directors of De Paul Treatment Centers, one of the largest nonprofit drug and alcohol treatment centers in Oregon, and a member of the Oregon Coalition for the Responsible Use of Medications.  Before beginning his legal career, Wilson served as an assistant to former United States Congressman and House Minority Leader Dick Gephardt. He is a graduate of Harvard University and Lewis & Clark Law School.