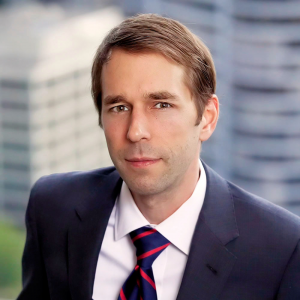 Portland litigation firm Markowitz Herbold PC is pleased to announce that Harry Wilson, a shareholder with the firm, has been selected by Benchmark Litigation as one of the nation's most accomplished legal partners age forty or younger. Wilson is one of 375 in the U.S., and one of only five selected in Oregon.
Wilson was identified for the Benchmark Litigation Hot List based on extensive research among litigation practitioners carried out over six months. The Benchmark Litigation team sought responses from thousands of lawyers by phone, email and face-to-face meetings.
Wilson represents clients in complex litigation involving contracts, business torts, securities, and employment in state, federal, and international forums. He has worked on cases before the United States Supreme Court, the Ninth Circuit Court of Appeals, an international tribunal in Kenya, and state and federal courts throughout Oregon. He is involved in some of the largest litigation in the Pacific Northwest, as well as smaller pre-litigation disputes and arbitrations.  Wilson's clients include Fortune 500 companies, small businesses, individuals, startups and governments. 
In addition to his legal work, Wilson is the Chair of the Board of Directors of De Paul Treatment Centers, one of the largest nonprofit drug and alcohol treatment centers in Oregon, and a member of the Oregon Coalition for the Responsible Use of Medications.  Before beginning his legal career, Wilson served as an assistant to former United States Congressman and House Minority Leader Dick Gephardt. He is a graduate of Harvard University and Lewis & Clark Law School.