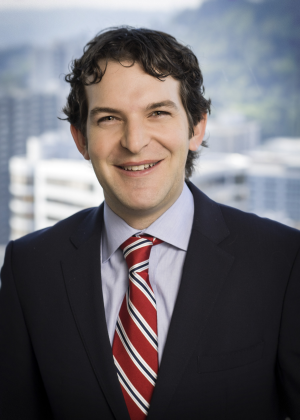 Portland litigation firm Markowitz Herbold PC announced today that Adam Starr has become a shareholder with the firm. 
Starr learned the art of telling simple and straightforward stories from his experience as a kindergarten teacher. These same skills now help him distill complicated legal facts into concise and compelling arguments for his clients.
Starr specializes in complex business and real estate litigation.  He has successfully handled shareholder disputes in closely held companies, as well as business torts, such as unfair business practices, fraud and defamation claims.  Starr has particular experience representing inventors in royalty and intellectual property disputes. 
His real estate practice includes construction finance, secured contracts, title insurance, guarantees, and lien priority disputes.  Starr is also experienced in litigating disputes between homeowner associations (HOAs) and homeowners, condominium associations (COAs) and condominium owners, and amongst neighbors.
Starr routinely wins cases by uncovering favorable evidence through his aggressive investigations and discovery efforts.  Because he works closely with his clients to understand their businesses and needs, he is able to roadmap efficient strategies for using litigation to resolve their problems and to reach optimal business solutions.
Starr is known for crafting persuasive arguments for hearings and trials.  He is skilled at drafting clear and concise briefs, motions and other pleadings for cases in trial courts and courts of appeal. He has extensive experience in California, Oregon and Washington State and federal courts, and in all stages of the litigation process, including trial. 
Prior to joining Markowitz Herbold, Starr worked at Miller Starr Regalia, California's preeminent real estate firm.  He also served as a judicial extern for U.S. District Court Judge Robert Takatsuki, and as a summer intern at the Department of Justice, Office of the U.S. Trustee in Los Angeles.  He graduated for UCLA School of Law where he served as a staff member for the Journal of Law and Technology.
Prior to attending law school, Starr was a kindergarten teacher for the Teach for America program and graduated with a B.A. in art history and psychology from Duke University.