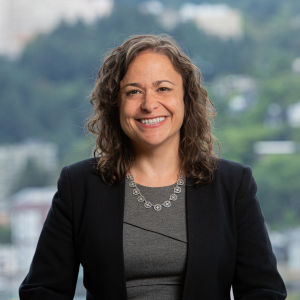 Portland business litigation firm Markowitz Herbold PC announced today that Jacqueline (Jackie) Kamins has joined the firm as Of Counsel.
Before joining Markowitz Herbold, Kamins spent nearly fifteen years representing state and local governments. At Multnomah County, she served as Senior Assistant County Attorney handling both appeals and complex civil litigation in state and federal court. At the Oregon Department of Justice (DOJ), she served in the Special Litigation Unit, which handles the most complex and significant cases facing the State of Oregon.
While at the DOJ, she negotiated an agreement that made Oregon one of the first states in the country to cover transgender health care services for its employees.
Following graduation from law school, Kamins clerked for the Honorable Kim McLane Wardlaw for the U.S. Court of Appeals for the Ninth Circuit and was an associate at an international law firm in Washington, D.C. Before law school, Kamins spent several years working on the Senate Judiciary Committee vetting judicial nominations, drafting legislation, and writing persuasive speeches.