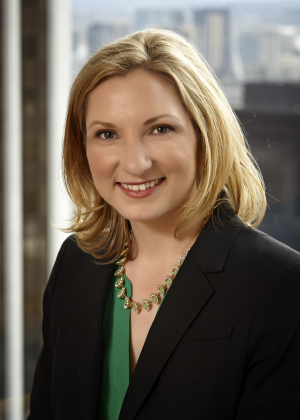 Portland litigation firm Markowitz Herbold PC is pleased to announce that Shareholder and Firm President Laura Salerno Owens has been recognized as a Women of Achievement honoree by the Oregon Commission for Women.
The Oregon Commission for Women established the Oregon Women of Achievement award in 1985 to recognize the accomplishments of Oregon women and to demonstrate appreciation for their endeavors. Qualifying candidates are exemplary role models who promote the status of women in society, are committed to diversity and equity, and have earned recognition for success and leadership in their fields.
Previous award winners include the Hon. Adrienne Nelson, Governor Kate Brown, author Cheryl Strayed, businesswoman Gert Boyle, author Ursula Le Guin, former Portland mayor Vera Katz, philanthropist Arlene Schnitzer, and other distinguished women.
Laura is a trial lawyer and the first woman to serve as President of Markowitz Herbold, a boutique litigation firm. As an employment and commercial litigation attorney and leader in her community, Laura seeks out opportunities to promote the status of women in legal and business arenas.
She is recognized as a Top 100 Legal Influencer in the U.S. by The Business Journals; a Women of Influence honoree; a Forty Under 40 honoree; University of Oregon School of Law Outstanding Young Alumnus; Oregon State Bar Young Lawyers Division Volunteer of the Year; and recipient of the National Service to the Bar Award by the American Bar Association, Young Lawyers Division.